Pre-Order Your Vehicle from Zeigler Chrysler Dodge Jeep® RAM Today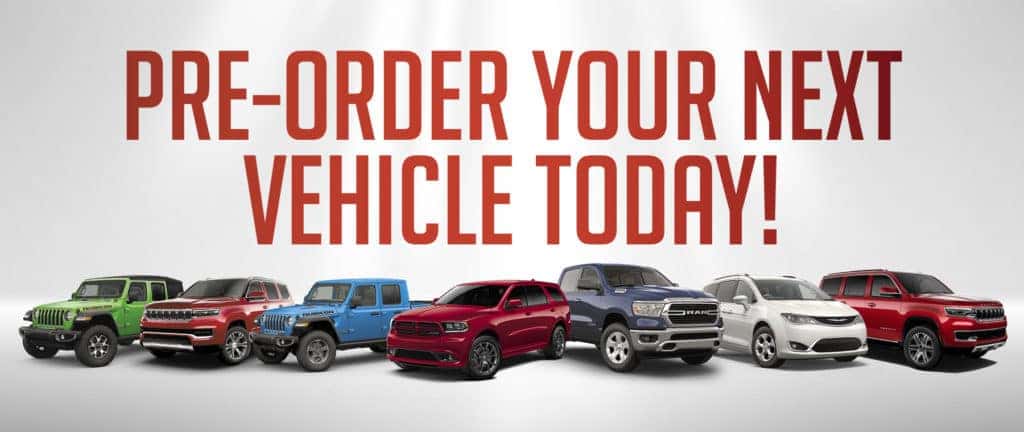 If you're looking for a Jeep® SUV for sale in Chicago or a nearby area, we encourage you to do one of two things – visit our Jeep dealership or pre-order the SUV you want using our secure website. If you choose the latter route, you'll discover that you won't have to make any compromises because your vehicle will be made to your specifications.
How the Pre-Order Process Works
Before we explain how the pre-order process works, we want you to know that you can pre-order any new model manufactured by the brands we represent. As a Jeep dealer serving the Chicagoland area, we can assure you that pre-ordering a new vehicle through our jeep dealership is an easy endeavor.
Whether you want to get a Jeep Wrangler, Jeep Wagoneer or Grand Wagoneer, Dodge Durango, Chrysler Pacifica, or RAM 1500, the pre-order process is the same. To start, you'll complete a digital form from the comfort of your home or office or at our location. You'll work with the pros in our Schaumburg, IL Jeep finance center to see if you're eligible for any incentives. If you are, we'll lock in the relevant Jeep lease deals or finance offers.
You'll need to provide a modest deposit when you pre-order your automobile, but it's 100 percent refundable. After you place your order, a dedicated salesperson will keep you updated about the status of your vehicle by sharing messages like:
Your new vehicle is being painted
Your new vehicle is in transit
Your new vehicle has arrived and is ready for delivery
Once your new car arrives, you can pick it up or we can deliver it to you. In either case, one of our team members will take you on a 360-degree walk-through of your vehicle, showing you all of the features your new automobile has along the way. If your new car will replace a vehicle you leased from our Jeep dealership, we'll pick it up from your location for your convenience.
Are you ready to pre-order a car? Contact our team of Jeep dealers to get started now!
Pre-Ordering FAQs
What is a pre-order?
When you pre-order, you'll be at the front of the line to get the requisite vehicle as it rolls off the production line. Pre-orders are honored in the order they're received.
What steps are required to complete my pre-order?
Fill out the relevant form online and hit submit.
Can I cancel my pre-order?
Yes, you can cancel your pre-order at any time and receive a full refund.
Do you have more questions about pre-ordering? Contact or visit Zeigler Chrysler Dodge Jeep RAM today.